Metropolitan Books
May 17, 2000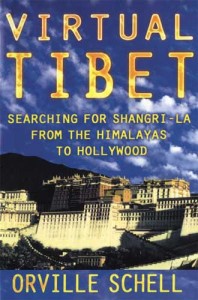 The Dalai Lama meets The Player-from the Himalayas to Hollywood, a fantastic journey into the West's longstanding dream of Tibet.
What has made remote, mountainous Tibet and its only real celebrity, the Dalai Lama, so abidingly fascinating to the West? From Marco Polo's vision of Tibet as a land of enchanters to James Hilton's dream of Shangri-la in Lost Horizon, why have Westerners projected their yearnings onto that inaccessible place as onto no other corner on earth?In Virtual Tibet, Orville Schell, one of the preeminent experts on modern China and Tibet, undertakes a strange and wondrous odyssey into our Tibetan fantasies. He recounts the spellbinding tale of the Western adventurers, explorers, and spiritualists who for centuries were bent on reaching forbidden Tibet and the holy city of Lhasa. At the same time, Schell leads us on a riveting present-day journey from Hollywood dharma study groups and Beastie Boy "Free Tibet" concerts to a re-creation of Lhasa in the high Argentine Andes, which was the extravagant set of Seven Years in Tibet, starring Brad Pitt. As the past and the present, ancient customs and the superstar culture collide, Schell sheds light on the danger of blurring virtual and real worlds.
A fabulous spectacle, peopled by celebrity Buddhists and Tibetan bonzes, Yak wranglers and high-powered publicists, Steven Seagal and the Dalai Lama, Virtual Tibet is an elegantly written work of extraordinary charm, power, and insight.